Day 7: Dance Walk (on your BINGO card) or Dance Like Nobody's Watching :)
Let's connect with our body, mind, and soul in a different way today, while also exercising some different joints and muscles you forgot you had (do this to your own ability).
Music and dancing can have a profound effect on the body and mind, there's no doubt about it. The song and the genre you pick will be up to you. Here are a few suggestions on how you can involve those around you or how to make it more fun. Share with us as much as you want, we want to hear/see you had fun!
Option 1. My favorite! Our own Walking Movement Leader from the Longmont Walks Chapter, Cherry Dominguez is also a Zumba instructor. She can learn dance routines on the fly: follow her, not me!
So we got together in the park and taped this distant routine, just for you! We took a couple of takes for this option, so I got a nice workout by the end of the night. Thank you, Cherry!
Option 2. We miss our popular Glow In The Dark Dance Walks! 
How do you recreate it at home with others?
Grab some glow sticks, or any other glowing or flashing accessories

Connect the glow sticks to contour your body, may need to use tape

Select a dancing playlist (80's, 90's, motown, Zumba, whatever makes you move and hop) and turn the volume UP through the speakers

Turn off the lights and start dancing!
Option 3. Create your own choreography with a favorite song. Remember this family video that went viral in March?  Get creative and have fun! (click picture to play)
Option 4. Put on your earbuds with the music of choice and dance while you're walking, preferably on a trail, with less traffic crosswalks as possible.
You know, move the hips a little, move your hands...maybe even sing a little. Find your rhythm. Do not watch the reactions of those around you :)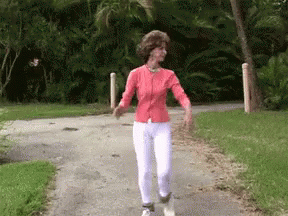 HAVE FUN AND DANCE LIKE NOBODY'S WATCHING!
---
If you haven't already received your BINGO card, please reach out & we will get you one. CLICK HERE, to check out our WALKtober Introduction video if you want to better understand the 'rules'. 
Do you like this post?